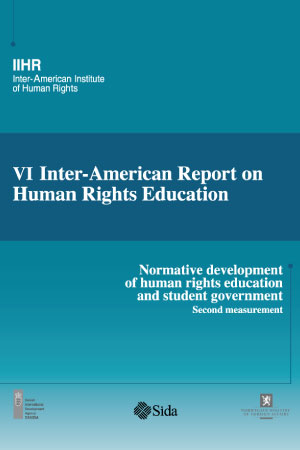 | | |
| --- | --- |
| Fecha de edición | 2007 |
| Disponibilidad | Digital |
| Número de páginas | 86 |
| Precio en formato impreso | $ 15 |
VI Inter-American Report on Human Rights Education. Normative development of human rights education and student government.
Publicada en diciembre del 2007
The IIHR hit a major milestone in 1984. That year it performed an exploratory study on the possibility of incorporating human rights instruction into the secondary school curriculum. The study became the seed for a pioneering, foundational program of the IIHR. By 1985, the human rights education (HRE) program had become fully operational, ushering in a new mission and laying the foundations of a process that is still on-going today. In the 1990s, the IIHR set up a program called the Educational Resource Center (CRE), whose stated purpose was to help teachers incorporate human rights issues into their daily practice. The CRE began to compile materials being produced throughout the region, organize them and make them available to users. It prepared catalogues containing bibliographic information and descriptions of the materials. It also put together directories of organizations and produced and distributed teaching materials on rarely-taught issues or perspectives.